The reopening of the Israeli market was achieved through a great joint work between SENASA and ABC, the market had been closed due to health issues in 2017.
One of the main objectives of ABC is to diversify world demand. In line with this objective we work, from the Market Committee, together with the public sector – SENASA, Ministry of Agroindustry and the Investment Agency, among others – to make our blueberries available in more markets. 
On one side, there is a growing world demand for blueberries which are increasingly being consumed and once tasted they are immediately adopted to diets due to their nutraceutical properties; and on the other side, there is an increased presence of market offering players that make the sector more competitive. Within this current context, it is essential to have different options to place the Argentinean Bluesin the market and position it by mainly highlighting its flavor. The sweetness that characterizes local blueberry is appreciated abroad as a distinctive value compared to other world productions, and this is the case of Israel, a niche market which Argentine producers know very well and appreciate since it has been under development for some time. Israel chooses our fruit mainly for its quality and flavor.
In recent years we have opened markets in China and Thailand. We are working together with SENASA to open India, Taiwan, South Korea and Vietnam and reopen Japan.

Works that help optimize quality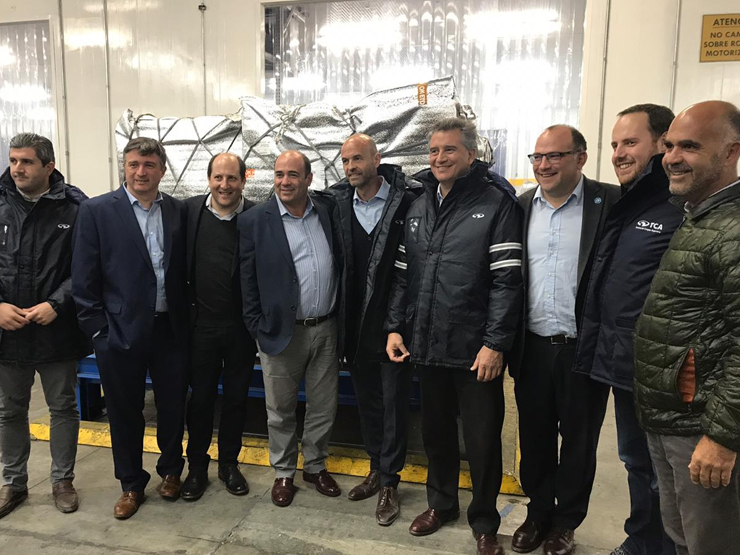 It is important to mention that the first shipments made last Saturday left from Ezeiza airport few days after the new cargo terminal (TCA) of said airport was inaugurated. This refurbishment provides adequate conditions to be able to export highly perishable products, such as blueberries, by preserving its quality to be consumed abroad and positioned in markets such as Israel. "After working together with production companies, airlines, shipping companies, AA2000 and different provinces, we were able to carry out the works so that fresh Argentine products can arrive to different destinations faster, taking care of quality and with lower costs. These are deep transformations that create opportunities for growth and employment."- said Guillermo Dietrich, Minister of Transportation.

The objective of the works was to optimize air cargo processes, improve operation efficiency and promote sustainable processes with the incorporation of technology that places the Cargo Terminal in line with international standards. In particular, operation of the export perishable warehouse was extended thanks to the reshaping of the cooling capacity, which meets temperature requirement of 0 ° to 4 ° C, essential to keep cold chain for blueberries. Identification of reception, scanning and weighing areas was also implemented. In addition, two state-of-the-art scanners with dual view technology, that allow scanning full 2.00 x 1.80 meters pallets, were incorporated, as well as and mechanical rollers.