Last week, a Chinese delegation traveled to Argentina and met exporting companies to initiate business relationships between both countries.
The delegation was composed of Chinese companies with one representative from Mirong Fruit and two from Freshport. Within the framework of Business Rounds organized by the Argentine Agency of Investment and International Trade together with the Institute for the Productive Development of Tucuman (IDEP) and the production sector locally represented by the regional institution APRATUC. Chinese delegation traveled to Tucuman to visit blueberry orchards and packing facilities and were able to enjoy the tasting of different varieties that meet the quality requirements for China. All those present were very pleased with the taste and quality of the product. They also visited quarantine treatment chambers and in one visit they were able to tour a packing house where a state-of-the-art machine enables the selection of high quality fruits.
Freshport Company connects importers and exporters, provides funding services to importers, customs and freight forwarders. They are interested in knowing Argentine companies to link them with their Chinese clients. Mirong Company is an importer of blueberries, cherries, pears and tangerines. Regarding blueberries, this was their first trip to Argentina. They are interested in beginning with trial shipments for this season and evaluate the behavior of the product in wholesale market, where they have several points of sale.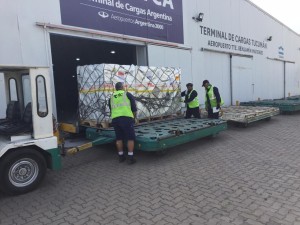 China is a demanding market in terms of blueberry quality. They look for large-sized fruit, sweet flavor, blue color and firmness. It is a big market to which we are now sending shipments that, for the time being, will be only by air. In compliance with these requirements, on Friday September 27, 2019, the first shipment of five pallets of blueberries was carried out from Tucuman to the People's Republic of China.
This type of visits is important since it gives the possibility to importers, who do not operate with products from our country, to get to know the product and that in turn, our product begins to be known in Chinese shelves as products with distinctive sweetness and flavor.
First cargo shipment from Tucuman to United States
Last Saturday, October 5, at 6:00 pm, the first cargo plane took off from Tucuman airport to Miami, United States with 50 tons of blueberries.