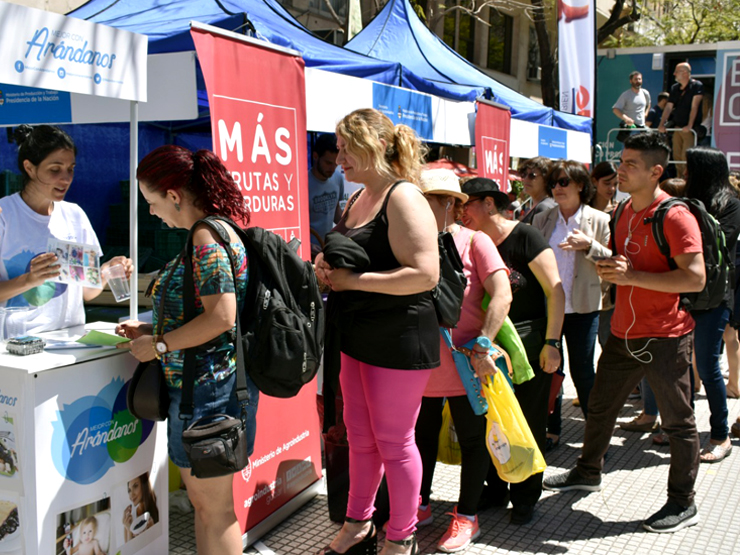 "The Blueberry Week" will be held from October 29 to November 4 in the framework of the campaign that seeks to encourage local consumption
Producers of the Argentinean Blueberry Committee (ABC) celebrate the "blueberry week" once again, being October and November the months of higher production in our country. From October 29 to November 4, within the framework of the campaign "Better with Blueberries" which aims at promoting local consumption, different fruit promotional tables will be offered in supermarkets, restaurants, schools, companies, public places and points of consumption in Buenos Aires as well as in CABA, Tucuman and Concordia.
Argentine blueberry is recognized worldwide for its excellence, quality and flavor. The objective of this campaign is to bring export blueberries to the table of Argentinians as a fresh, natural and healthy alternative for mass consumption. We invite different players to join and help promote it.", stated Federico Baya, President of ABC".
Within the activities to be carried out during the week, we can mention tastings in supermarkets where consumers will also find 125g blueberry clamshell at a "special" price; promotions in public spaces, schools and companies where blueberry boxes will be delivered as an opportunity to taste it.
Blueberries are defined by ABC as a "super fruit", due to its high content of antioxidants, fibers, magnesium and vitamin C and as a versatile fruit that offers a healthy alternative to the consumption of snacks and desserts for the entire family. Moreover, the fruit stands out from other productions of the region by its sweet taste.
"Blueberry is a highly nutritious fruit that provides many health benefits such as improvement of cognitive functions, prevention of cardiovascular conditions and diseases of the urinary tract. Moreover, it helps reduce bad cholesterol", ABC stated.
Promotion campaign
Within the framework of the campaign, different raffles will be held in social media (Facebook and Instagram) where people from all over the country will be able to participate and bags with products will be sent to radios to be drawn among the listeners.
Besides, on October 16, 17 and 18, blueberry producers will take part in an activity organized by the Secretariat of Agroindustry to offer tastings right at the heart of the Obelisk.
Launching event
Launching event, conducted by the press, influencers and public in general will be held on Tuesday 23 at 9hs in CAME, 25 de Mayo 457, PB – Buenos Aires, Argentina.
In this event, Dr. Monica Katz will talk about blueberries and their health benefits, while the renowned chef, Laura Di Cola, will be talking about the way to include blueberries in the day-to-day cooking, for the whole family.
Join us now on our social networks to know all that is happening, see recipes, tips and much more!
Facebook: MejorConArandanos

Instagram: mejorconarandanos

Twitter: MejorArandanos