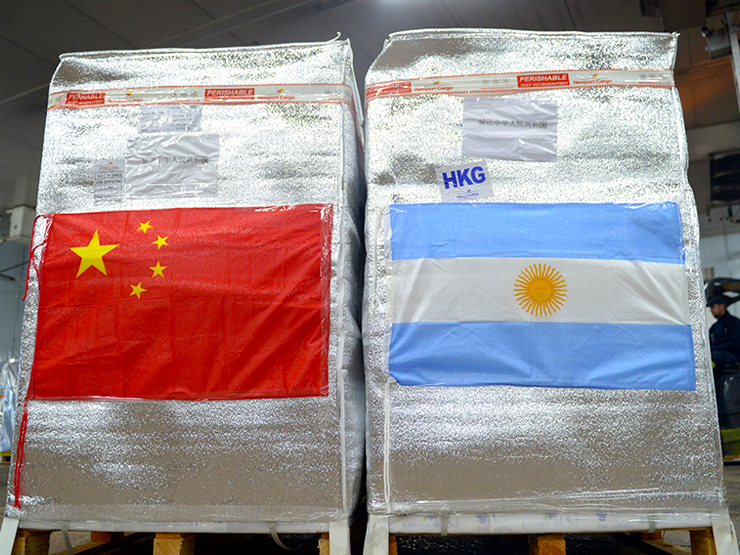 Two pallets, 360 kilos each, of Blueberry Emerald were shipped to China
Producers of the Argentinean Blueberry Committee (ABC) celebrated today the departure of the first shipment of 720 kilograms of fine fruit at Ezeiza airport. "This is an achievement of all Argentinians, the result of the joint work between the State and private sector and therefore we must all be very proud, "explained Federico Baya, president of ABC. 
The shipment consisted of two pallets, 360 kilos each, of blueberries corresponding to Emerald variety, large and sweet fruit, which is very appreciated for its good appearance. The ship will stop in Istanbul, Hong Kong, and the Chinese city of Shenzhen is the final destination.
The company Berries del Sol, which on Tuesday exported blueberries to China for the first time, has already exported its production to Russia, Israel, Canada, and the United States. 
On the other hand, Alejandro Pannunzio member of the ABC and President of the Producers Association of Mesopotamia (APAMA), stated that "the market was opened a month ago. Some companies were selected to export by the Chinese health authorities during an audit which included ours ", said Pannunzio and revealed that, after the news of the opening of the Chinese market," each selected company began to work and look for clients, preparing lots according to requirements. We walked this path and were able to be the first Argentine company to export to China. "
ABC, which accounts for more than 80% of blueberry exports of our country, gathers the regional chambers of the sector, which are: the Producers Association of Mesopotamia (APAMA), the Chamber of Producers of Blueberries and other Berries (CAPAB), and the Association of Producers of Blueberries of Tucuman (APRATUC).
Argentina is one of the main players in the global market, with more than 20 years in the export activity. In this sense, the geographic location of our country has a counter-season crop as an advantage, which allows us to supply products during periods of low production in the countries of the Northern Hemisphere.
Exports of fresh blueberries fruit account for 95% of the total production in Argentina, approximately 2% goes to the local market (consumption in fresh) and only 3% to the industry for the production of juice, jam and frozen pasta for ice creams / yogurt and confectionary.
In 2017, main export destinations were: USA, United Kingdom and continental Europe.