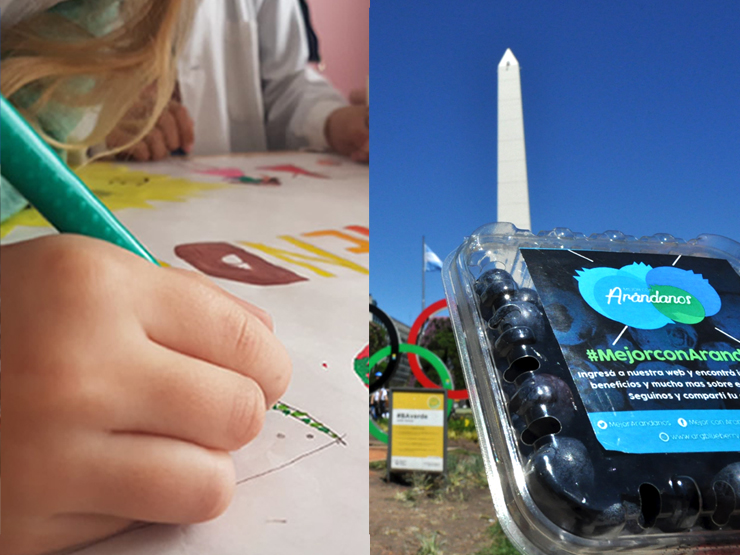 Campaign to promote the consumption of fruit
Today, producers of the Argentinean Blueberry Committee (ABC) highlighted the results of the "Blueberry Week", as well as the initiative "Frutea Tu Escuela", a healthy eating contest which sought to popularize fruit in schools countrywide.
"Coordination among players in the chain allows to enhance different productions. Campaigns like Better with Blueberries and Frutea Tu Escuela do not oppose, on the contrary, they feed themselves and act jointly", explained the ABC.
On the other hand, "Frutea Tu Escuela" was a convening federal contest: 1,297 teams participated with their work, which accounts for more than 12,000 students working the concept of healthy eating in a universe of 700 schools countrywide. There were teams representing the 23 provinces of Argentina plus CABA (Autonomous City of Buenos Aires). Santa Fe, Salta, Córdoba, Buenos Aires, Tucumán, Mendoza, Entre Ríos and Misiones had winning teams in both Primary and Secondary school categories.
Teams chosen won a monthly supply of fruit for all their students during 2019 school term. In order to receive the award, they are travelling to the city of Buenos Aires on Friday16, November and visiting the facilities of Tropical Argentina, the company that organizes such activity.
The main objective of this social responsibility action proposed by Tropical Argentina was that students and teachers could think about the importance of consuming fruits during school day using posters (in Primary schools) and videos (in Secondary schools). Works made by children and youngsters from all over the country show that bananas, blueberries, pears, apples and oranges are healthy and accessible that allow for a better development both inside and outside the classroom.
"Fruteá Tu Escuela" stands out for its originality in the actions that the fruit and vegetable sector carries out to promote the consumption of fruit and vegetables in our country. Worrying numbers regarding childhood obesity in our country show the need to change the paradigm of food, encouraging the consumption of healthy foods, especially those produced by our regional economies, and shown in the actions that are being carried out by different sectors, for example #MejorConArandanos (Better with Blueberries) of high impact.
"Better with Blueberries campaign was a success for producers since we were able to promote our fruit and its characteristics that differentiate us from the rest of the world: excellence, quality and flavor", stated ABC; and added: we brought export blueberries to the table of Argentineans as a fresh, natural and healthy alternative for mass consumption".