In line with this business model, ABC carries out a national social strategy which aims to public- private and multi-stakeholder cooperation, with a long term view and taking into account the local needs in order to find solution.
Throughout this year, we have carried out several actions in different production areas. We have launched, together with the Enterprise Network against Child Labor, a communication and awareness campaign for the prevention of child labor and protection of adolescent workers and we are designing a social compliance system with DyA Foundation within the framework of the PAR Project – Responsible Agricultural Production.
Last week, producers gathered in the Association of Blueberry Producers of the Argentine Mesopotamia – APAMA, institutional partner of ABC, made an important donation of fruit to school canteens that open their facilities on Saturdays within the framework of food emergency programs.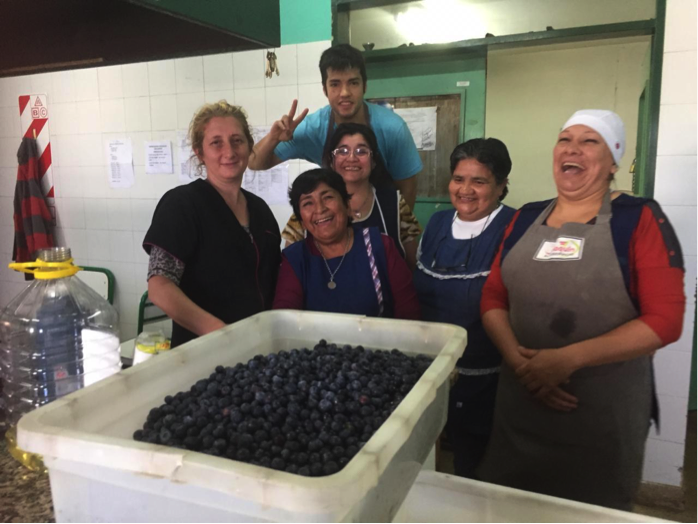 Marcela Sbresso, departmental coordinator of the Ministry of Social Development, confirmed that 22 school canteens in Concordia, province of Entre Ríos, have received blueberry fruit. It is worth mentioning that the decision to open school canteens on Saturdays is to ensure "the right to food as well as food and nutrition security of the population, given the existing social situation".
Furthermore, the person responsible for school canteens in the department of Sarita Eiris laid emphasis on food quality and the benefits of consuming blueberries: "We offer a special menu made by nutritionists for Saturdays", said the official and added that "now we offer fruit that is grown in the area which has several health properties, especially for our children; therefore, we fully support this initiative".
As a result of this first initiative in school canteens, APAMA is already coordinating with other producers in the region (blueberries as well as other products) to continue with this social commitment to support communities and work together to ensure the right to food of every child and teenager countrywide.
In Tucumán and Buenos Aires, within the framework of the Blueberry Week and the More Fruit and Vegetable Program, regional associations APRATUC and CAPAB, respectively, gave talks on cooking in schools where students were told about the benefits of consuming blueberries and how to simply include the fruit into the family diet. There were many children who did not know the fruit. Experience was highly positive, blueberry is an excellent option for children to take to school as a healthy snack. It is convenient and easy to eat, apart from having significant health benefits.