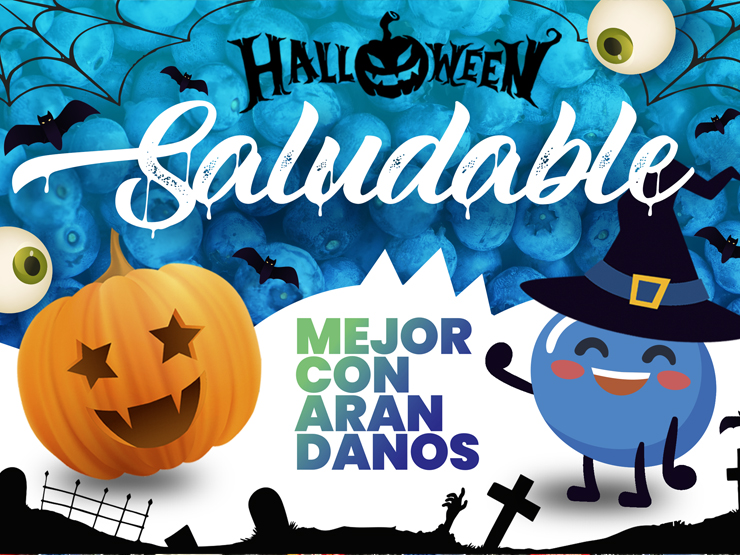 The Better with Blueberries (Mejor con Arándanos) campaign has joined the traditional Halloween celebration this year. "Healthy Trick or Treat" is the proposal that the Argentine Blueberry Committee (ABC) introduces to promote healthy candies among boys and girls.
The Better with Blueberries campaign has been in force in Argentina for the fifth consecutive year. In 2021, and thanks to the flexibility allowed by a good epidemiological and sanitary condition in the country, traditions and celebrations will be resumed in person. This is the case of Halloween, where children enjoy the traditional "Halloween".
Although Halloween is neither a local tradition nor widely shared countrywide, it is celebrated in some areas where children dress up in costumes and ask for treats in exchange for tricks.
This year ABC has found in this celebration the opportunity to further expand its campaign to promote domestic consumption.
"Healthy Halloween is a worldwide initiative and we thought it was a great opportunity to reach more families in our country through face-to-face actions, which were so much needed. Therefore, we contacted clubs and schools and organized an activity with educational proposals, offering healthy candies and healthy tricks," explains Carla Ginóbili, ABC manager.
In 2021, we will be present at stands in neighborhood fairs that take place in Buenos Aires, the capital city of the country and where Halloween is celebrated the most. Healthy kits have also been prepared to be distributed in some initial and primary schools.
"Since we have strong presence in social media, we were contacted by groups of parents who organize fairs and were asked to help them to introduce the idea of healthy snacks also on this date", said Ginóbili about the initiative of the neighborhood fairs.
Some of the healthy tricks proposed by ABC this year are: reusing the original pot by filling it with blueberries; using frozen blueberries as "frozen candy"; combining blueberries with yogurt; natural fruit skewers combining blueberries with kiwis, strawberries, bananas, apples, pears, oranges, and other fruits; and blueberries covered in chocolate.
"Our overall goal is to expand the consumption in the domestic market and we are adding new proposals every year to achieve it" concluded Ginóbili.
All the proposals can be seen at @mejorconarandanos