The Argentine Blueberry Committee (ABC) has designed an educational proposal to reach schools with its campaign to promote healthy eating. The proposal is part of the actions of the Better with Blueberries initiative and aims at encouraging new generations to incorporate fruits and vegetables in their daily diet.
It is estimated that the population of children from 0 to 14 years of age in Argentina is approximately 10 million, 24% of its total population. Child nutrition rates often reveal that there is still a long way to go in terms of education on healthy eating and that local economic factors account for a pending debt with a great part of the population in terms of nutrition and food.
The ABC, as part of its social commitment policy, has added the Education plan as one of its pillars to design actions and allocate investments.
In production areas, such as NEA and NOA, a series of community services aimed at strengthening education in two stages of life are already in operation: Child Care Centers for girls and boys at early stages in Tucumán and Concordia, and Youth Spot Centers with internet connection and school tutoring for teenagers in Tucumán.
Educational proposal for schools  
This year, in addition to the infrastructure services already in place, ABC partners have designed an educational proposal to incorporate teaching about the blueberry production system in particular and healthy eating in general.
The proposal includes the drafting of a digital book with information on the production system itself and an additional book with a series of activities to be implemented in the classroom.
Activities were designed for two groups: children aged 1, 2 and 3 years; and another group aged 4 and 5 years. In addition to the digital book, there is also a video to promote healthy eating focused on fruits and vegetables and a presentation on the Production System which describes the production process of blueberries to be applied to the primary school curricula, along with content on production systems and their primary, secondary and tertiary stages.
"This is a first step", they explain from ABC. "We plan to expand and continue producing content for secondary schools as well," ABC anticipates.
A first experience with the implementation of this educational proposal took place recently in a primary school in the province of Córdoba, in the central area of the country.  On this occasion, the ABC facilitated a talk via Zoom to fourth grade girls and boys. After the presentation, the teacher proposed classroom activities based on the instructions and content offered on production systems and the properties of blueberries in particular.
Girls and boys asked questions and consolidated their learning about the blueberry production chain, its properties, care and how to consume them in artistic productions.
In November, the ABC has already scheduled new talks to be held at schools in the City of Buenos Aires and also in some schools in the northern area of the province of Buenos Aires.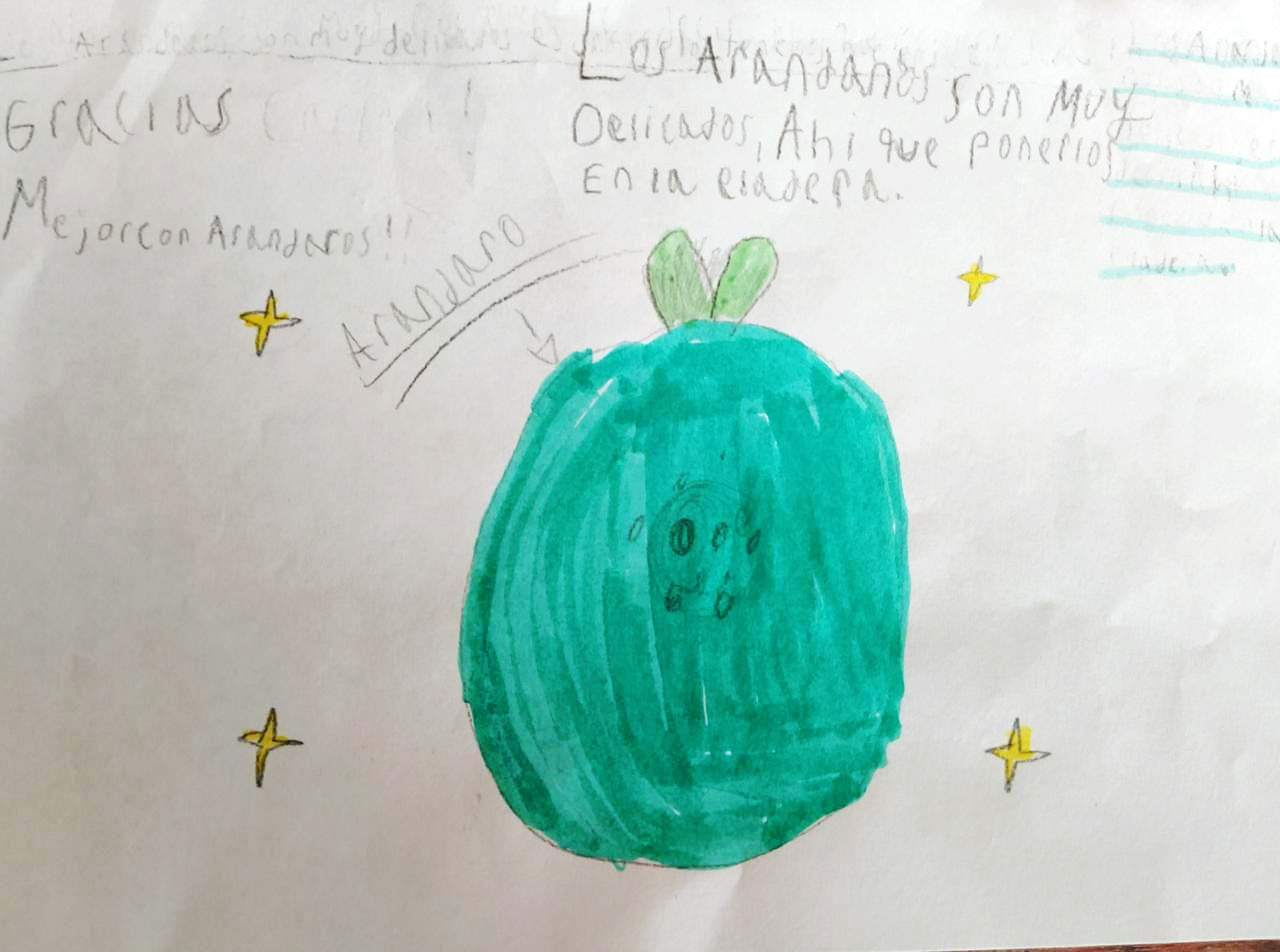 Some of the drawings that students from an elementary school in Córdoba made after participating in the talk on Production Systems and blueberries given by ABC. "Blueberries are very delicate, you have to keep them in the fridge" wrote one of the children.  
"Sir, blueberries should not be exposed to the sun" wrote another child after the ABC talk at a primary school in Córdoba.
Another child learned that "Blueberry has to be kept chilled"
A drawing portrays learning about production systems and their Primary, Secondary and Tertiary stages. "The primary stage" with blueberry plantations drawn by one of the children
"I learned that we cannot grow wild red blueberries in Argentina because the soil is not prepared and it is very expensive to have red blueberries in Argentina. Thank you Carla for teaching me why there are no red blueberries in Argentina" wrote one of the children who participated in ABC's educational proposal in an elementary school in Córdoba, in the central part of the country.