Major products exported, countries that have grown the most and new challenges are some of the topics that Southern Hemisphere Association of Fresh Fruit Exporters SHAFFE, which groups the eight most important countries in fresh fruit exports, is working on.
SHAFFE is the Southern Hemisphere Association of Fresh Fruit Exporters and gathers the eight most relevant fresh fruit exporting and producing countries in the Southern Hemisphere (SH).
According to the data provided by the association, the entire SH accounts for 11 million tons of fresh fruit exports worth US$14 billion, about 25% of the total global fresh fruit supply.
"Our vision is to connect the Southern Hemisphere industry through sharing knowledge and facilitating access to international trade for our partners. We want to trade fruit and vegetables produce with no barriers at destination markets," explained Christian Carvajal, current president of the Association, who shared data and perspectives of the hemisphere at the recently held APAMA Conference, organized by the Association of Blueberry Producers of Mesopotamia Argentina, a partner organization of the Argentine Blueberry Committee (ABC).
Exports by SHAFFE partner countries in 2020
In his presentation, Carvajal described the current situation of fresh fruit exports from the hemisphere and pointed out that between 2019 and 2020 the area showed a growth of 6.4%.
In 2019, exports amounted to US$14,718,176 and in 2020 total exports accounted for US$15,657,436.
Countries that exported the most were Chile, accounting for 29% share, South Africa for 21%, Peru for 20%, New Zealand for 16%, Australia for 6%, Argentina for 5%, Brazil for 3% and Uruguay for 0.5%.
Main products exported by Southern Hemisphere countries
Grapes, kiwis, blueberries and apples basically represent 50% of fresh fruit exports from the Southern Hemisphere, reported Carvajal in the framework of the APAMA Conference by highlighting that "the growth of blueberry exports from the Southern Hemisphere is remarkable, which showed 72% growth from 2016 to 2020".
Exports of partner countries by species (USD thousand million) 2016 vs 2020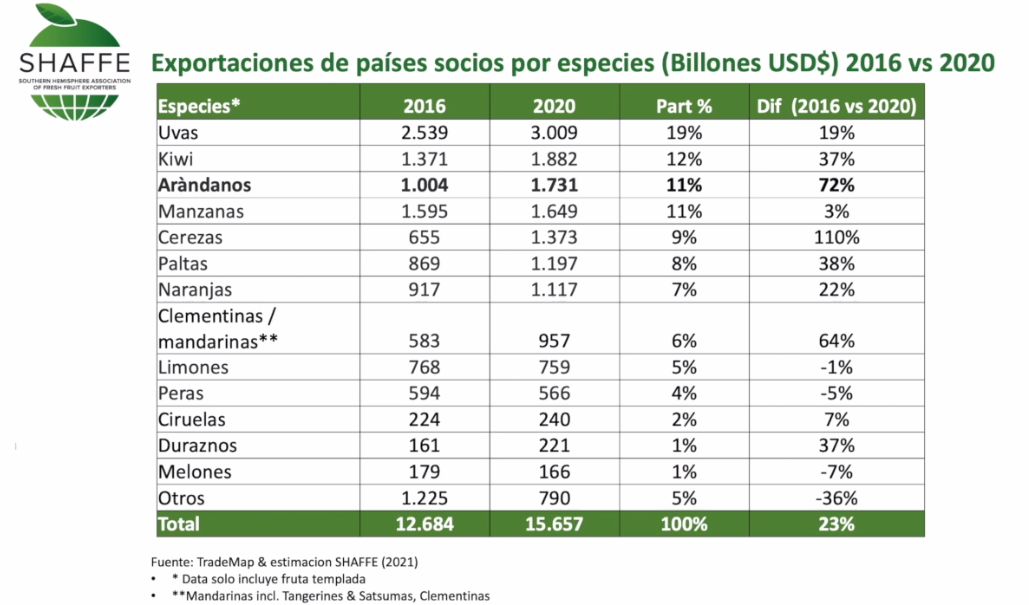 SHAFFE main destination markets for its partner countries
Eighteen percent of all fruit exported by SH is intended for the United States, 17% for China; and more than 20% for Europe.
"The growth of exports to China is outstanding, more than 95% between 2016 and 2020" stated Carvajal.
Blueberry exports
Carvajal mentioned that, in terms of blueberry production, Peru is the country that has clearly grown the most. At the same time, it is important to mention the appearance of Colombia with an opportunity to become an important player.
"Peru accounts for more than 50% of SH exports with a YoY growth of 36% in the last year" he noted. Regarding Colombia, it is seen that it started exporting in 2019 with a 152% growth since then and has gone from exporting 179 tons to 450 tons in 2020/2021.
Blueberry exports from the Southern Hemisphere (Tons)
What challenges do countries in the Southern Hemisphere face? 
Logistical delays seen as major market access challenges, as well as Covid-related problems were the most frequently mentioned issues in a survey conducted among SHAFFE partners.
National protectionism, there is a new access problem faced by producers and exporters in the light of "eat local" in some destination markets.Government entities make calls to consume local versus imported product.
Despite this scenario, "80% of the members assess the future in a positive or highly positive way, the outlook to continue growing by producing and exporting delicious and healthy fresh fruit from the Southern Hemisphere is extremely positive",said Carvajal.
Concerning the projects that SHAFFE is already working on, the president mentioned that "the first Master Degree in international trade of fresh fruit will soon be announced. Such Master Degree will include topics such as Free Trade Agreements, Sustainability, Food Safety, Marketing and Communication, all included within the fruit and vegetable sector".
Lastly, Carvajal referred to the new working commission made up of professionals from partner countries to define a strategy action for the hemisphere in face of the challenges to sustainability: chaired by Gabriel Wasserman from Argentina and on behalf of Frutas de Argentina, the commission will prepare a White Paper to map SHAFFE objectives and actions in the short, medium and long term. –