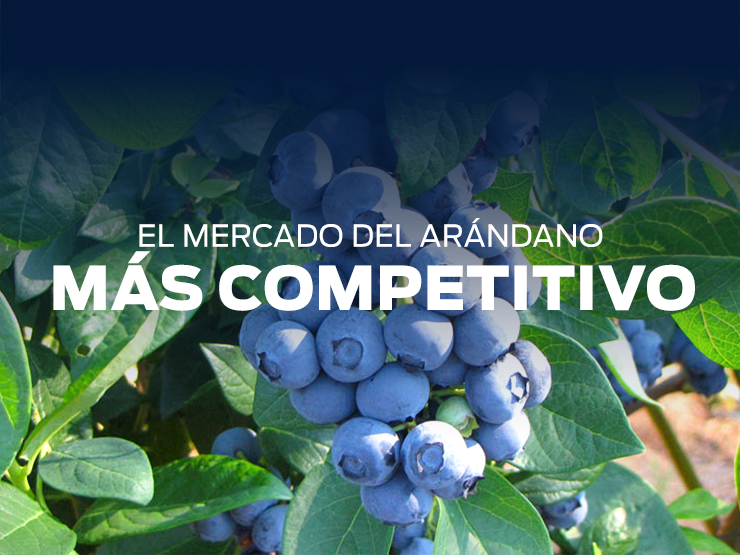 With an increasing number of players, today´s scenario is highly competitive where quality is reduced to few things: full color, firmness, texture, flavor and shelf life. Juan González, from GCS Europe, analyzed the increasingly competitive blueberry market and how competitiveness affects quality perception.
In theory, Europe should be the best market for blueberries: it has 500 million inhabitants, 27 countries with 27 different consumption cultures, a fairly high household income, and consequently an interesting purchasing power for this type of product. Juan González is the General Manager of GCS Europe, a Company located in Brussels, Belgium, devoted to providing quality control service in different parts of Europe, mainly ports, airports and importers 'cold stores. Gonzalez said during his presentation at the 9th. Regional Technical Conference on Blueberries organized by APAMA, "we have seen how consumption of blueberries has grown and sped up and it is even going to accelerate exponentially in the coming years, because in countries where consumption was very limited in the past, today they are producing and importing, as in the case of Poland and France. They are new markets being opened and getting involved in the business and, in that sense, it is good news. Other countries such as Ukraine and Bosnia Herzegovina, although they are not large volume indicators yet, we know they expect to be important operators ". He also highlighted the case of Morocco, which González includes within Europe, since many Spanish companies that produced strawberries have turned to blueberries, finding interesting production seasons in the African country. Spain produces large quantities of fruit for only one market: Europe; this is the reason why prices go down constantly to try to be the most competitive market, up to 4,20 euros at the importer's plant. "Unfortunately, different factors make real price of production be distorted in Europe. Spain moved some bad practices from strawberries to blueberries. "
Does flavor matter in a highly competitive scenario?
More and more suppliers appear in 2 commercial seasons. In the first one, from September to December, Argentina was in, followed by Uruguay, South Africa and Peru; currently, Netherlands and Poland manage to have blueberries until mid-October.
"This practice was carried out in 2017. Poland sends fruit to Netherlands to be stored in controlled atmosphere chambers, which are opened in mid-October." So there is an important number of countries and, above all, with large volumes. Kenya and Zimbabwe are added as from this year, with small but significant volumes. "It is important to know that these countries enjoy the economic privileges of the United Nations, FAO and European Union, where incentive to agricultural production is seen as a way to contain immigration and generate new economic expectations for local populations. This needs to be taken into account because it means we will have more and more players and if we are not aware of this fact, we will be more and more complicated. "
Peru is in during the second season followed again by Morocco that covers practically the whole period until June with fruit harvested 6 days before, which gives a post-harvest assurance and shelf life able to withstand market fluctuations. Spain is in from mid-February followed by Portugal, with the best quality among European producers and highly appreciated by supermarkets both for flavor and firmness of the fruit, Holland, Germany and Poland. New countries: Serbia and Romania.
What one must do is show that we are able to do more than what we are doing now. Within a scenario of top competitiveness, quality standard is reduced to few things: full color, firmness, texture and shelf life ".
But then, does flavor matter? At present there is great competition between supermarkets in Europe and a new modality that is "neighborhood supermarkets", smaller and closer to consumers. They all try to stand out from their competitors, and establish differentiations in flavor. "I think flavor is important, though importers will say that the most important issue is price.
Trends for the next years
Greater competitiveness between European and non-European producers: European local production will have increasingly more space in the market and wider production cycles, which will clash with overseas production, unless consumption volumes increase and then, consumption is higher than production.

Storage capacity of European fruit is going to be longer and longer.

New countries will complete the offer of Poland. We have seen that Ukraine, Bosnia Herzegovina, Belarus, are countries that were not present and now are sending their production to markets.

Price reduction may be a tendency in the future.

If consumption does not increase, there will be a transfer of production that was formerly sent to Europe, to other markets. "We will have to see which markets will be the most appropriate and if we are also going to transfer part of the competition that is taking place in Europe to those markets".
Reflections: Is the industry an objective industry?
All producing European countries have known how to develop an internal market. Countries that produce, grow in their national market and even demand forces them to import. It happened in Poland, the United States, China, but it does not happen in Latin America. "Today, in Chile a box of blueberries in the shelf costs approximately USD 50. If we continue to maintain the price of blueberries in our local markets as if it were an elite product, we will never create a market, and we will depend permanently on other markets.
In all discussions we have had about quality, mea culpa is on the fact there is no B or C plan for our blueberries, so we load everything and export everything, knowing that not all the fruit meets the quality export requirements. That 10-15% of fruit that does not comply, is the fruit that damages the whole image of our industry. "For González, to be able to supplement the internal market would allow channeling the fruit that has less post-harvest, better develop consumption and eventually import from other countries, positioning ourselves in a different relationship to other markets.
Are we mature enough as an industry?
"I think we are in some cases, and we are not in other cases. We are looking at the Chinese market where we have to arrive with shipping containers, and we still do not dare to send containers to Europe because we do not know the result. "González emphasized the need to perform joint tests and studies to prepare the industry for the challenges of new markets, working on post-harvest and developing the qualities of blueberries. "It's time to work together with the professionals who can lead us in the best way."