On this occasion, we offer two super ideas so that you can celebrate a blue and sweet Thanksgiving Day! Do you dare taste meatballs with blueberries and sauce? Or would prefer a mouth-watering blueberry chutney to serve with the traditional turkey or exquisite meat? For either options, you only need a magic ingredient: Argentine Blueberries!
MEATBALLS WITH ARGENTINEAN BLUEBERRIES AND SAUCE 
(GLUTEN FREE)
INGREDIENTS
Servings 6
For meatballs

500 grs Ground beef 

100 grs Pork sausage 

1 Egg 

1 tablespoon Worcestershire Sauce 

1 tablespoon Fresh chopped parsley

½ cup Fresh blueberries 

1 clove Garlic

70 grs Grated cheese 

1 teaspoon Salt

2 tablespoons Olive oil
For the sauce (no sugar!)
2 cups Fresh blueberries 

1 clove Garlic

1 tablespoon Tomato paste

¼ cup Wine vinegar 

½ teaspoon Salt 

500 ml Crushed tomatoes 
LEVEL 3
TIPS
Can freeze once prepared.

The extra value is the flavor in this recipe, sauces in general have sugar to reduce tomato acidity, Argentine blueberries make this acidity worth it and there is no need to reduce it at all! The best!
INSTRUCTIONS
Mix meat, chopped parsley, the egg, chopped garlic, stuffing of sausage, blueberries, Worcestershire Sauce and cheese in a bowl. Knead for some time to combine all ingredients and break the blueberries with the fingers.
Shape into 4 cm diameter meatballs.
Heat olive oil in a frying pan and cook meatballs over a strong heat, for 2 minutes each side to brown. Set aside.
Lower heat to medium and, in the same gravy, place crushed garlic and let set for 1 minute. Remove and add blueberries and tomato paste. Mix and cook for 2 minutes. Add vinegar, salt, crushed tomatoes and mix. Add meatballs to the sauce and let them cook for 30 minutes approximately.
Serve with white rice.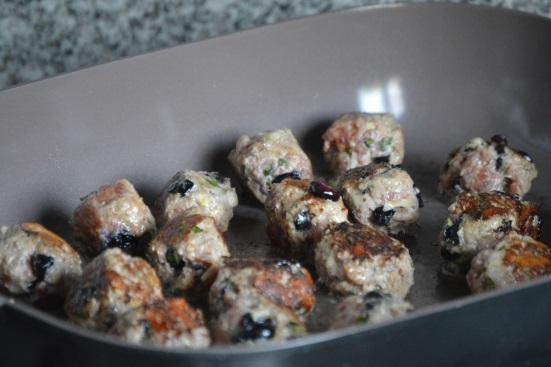 ARGENTINEAN BLUEBERRY AND MANGO CHUTNEY
INGREDIENTS
Serving 700 ml jar 
3 cups Blueberries 

1 Mango

1 Pear 

1 cup Sugar 

½ cup Apple cider vinegar 

2 tablespoons dehydrated mint 

1 tablespoon Curry 

1 teaspoon Turmeric root 

1 tablespoon Ginger

½ teaspoon Cayenne pepper 

2 berries Juniper

2 tablespoons Worcestershire Sauce

1 tablespoon Balsamic vinegar reduction
LEVEL 2
TIPS
The right cooking point of a chutney is when it cools down and forms a thicker coat on top. Ideal consistency is between the consistency of a sauce and a jam. It should not have as much texture as a jam, since it has less sugar and more liquids.
INSTRUCTIONS
Peel and cut a mango into small cubes, the size of a blueberry. Do the same with the pear. Place fruit in a saucepan, add previously washed blueberries and the rest of ingredients. 
Bring to boil over medium heat for 15 to 20 minutes, until it reaches the right point (see cooking point in tips). Stir constantly to prevent sticking at the bottom. 
Once ready, remove from heat and pour into jars while still hot. 
For a longer storage period, follow appropriate packing procedures.