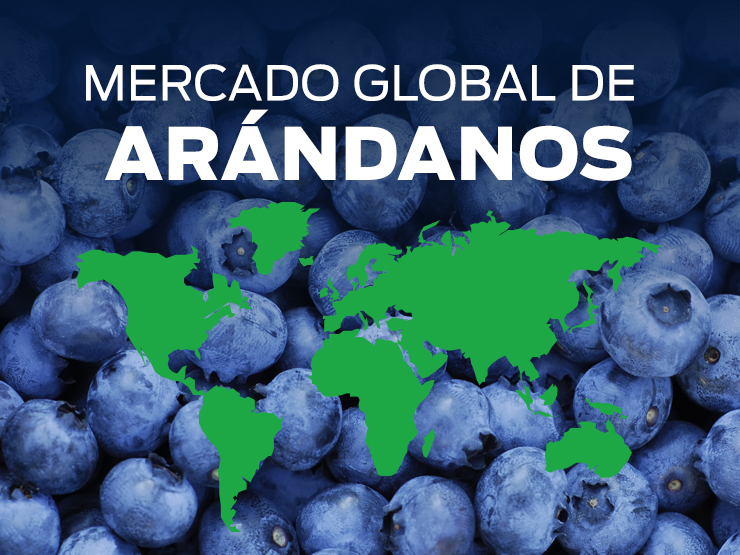 Within the framework of a communication strategy from the main producing countries of Latin America, Federico Bayá, president of ABC, Miguel Bentín, former president of ProArándanos, Álvaro Galione, representative of UPEFRUY and Andrés Armstrong, President of the Chilean Blueberry Committee, shared commercial forecast and expected volumes for the current season.
Last season, total shipments from South America accounted for 176,850 tons, which meant a growth of 17%, led mainly by Peru (+ 76%). Regarding arrival, a peak was seen in week 51 due to the advance of Chile, but in general, a flatter offer is seen as the result of continuous presence of Peru and Mexico throughout the season. The tendency is that commercial seasons that existed until now, disappear. Export window in October is around 2,500-3,000 tons and in April, offer is in a fairly stable situation, and this will continue as these two countries increase their production.
Argentina expects to reach 20,000 tons and 34% ocean freight shipments
Argentine exports of blueberries would be around 20 thousand tons, where 85% will be concentrated in ABC member companies. The peak would take place in week 43 with 2,034,273 kilos. According to the genuine estimates reported by members of the Committee, 34% would account for ocean freight shipment. USA can represent 55% of said shipments. "This growth is important, but we must continue to project an increase in this way. We have understood the new scenario and taken the challenge especially in weeks 43 to 45 where the market probably does not support 1400 tons by air. For the first time, volume of organic fruit could be estimated in 3,000 tons approximately to be equally distributed between USA and Europe. 68% of this volume would be sent by sea, mainly driven by the fact that fruit to USA should be under cold treatment. Regarding this market, Bayá highlighted that "Argentina is no longer the main player and therefore we have the role of adjusting the supply to USA" In this framework, Argentina is promoting, for the second consecutive year, its promotion campaign "Taste the Sweetness, Feel the Difference" to position Argentine blueberry by its differentiating flavor.
Peru estimates 75,000 tons and 100% ocean freight shipments
Peru's growing offer, though still high, is no longer a 3-digit growth. In 2015-16 Peru exported 13,136 tons, which increased by 105% in 2016-17 season with 26,886 MT. Last season (2017-18) the volume accounted for 48,766 tons and forecast for 2018-19 season is 75,000 tons of blueberries, representing a growth of 54% compared to the previous season. This estimate is carried out taking into consideration the growth in hectares and the beginning of production in the current surface. Shipment distribution shows a similarity in the last 3 seasons, with a peak in October accounting for 28% of the total. Miguel Bentín said that it was too early and may be a little imprecise, although the weather conditions this year are very similar to the previous one, and that is why the curve can be very similar. "This campaign did start earlier, in week 26 and is estimated to end in week 12. We are talking about ¾ of the year." In the last 3 seasons, a clear decreasing tendency was seen in shipments by air, while less than 1% of the total is forecasted for the current season, which according to Bentín, it is due to Peruvian volume favorable for ocean shipments when air cost is not convenient for Peruvian producers. Regarding markets, there is a total global growth of 54%, led mainly by China that will record a growth of 60%, receiving 15% of shipments this season, to the detriment of the volumes of USA. Currently, negotiations are being made to open the markets of South Korea, Japan, Malaysia, Taiwan and India.
Uruguay gets ready for 2,000 tons of export by air
Uruguay has consolidated 350 hectares of blueberry production for this year, which would estimate 2,000 tons of export in the commercial window from September to December. From the total amount, 40% would be sent to USA, since Uruguay has only 3 centers to apply methyl bromide, therefore there is a trend to Europe that concentrates 46% of shipments, and England with 14%. Álvaro Galione, representative of UPEFRUY, explained that "last year we had hail events that caused production to drop sharply to 1,200,000 kilos, but we are working to get it sorted out. Currently, 10% of the area is under hail protection nets ". Development of the sector is currently based on replacement for more productive varieties and better accepted by the market, as well as the improvement of early varieties to arrive to the market when there is less fruit and better prices may be obtained. New packaging technologies have also taken place and some companies are working on robotization. Galione stated that the cargo terminal of Uruguay (TCU) is one of the strengths of the sector since it can process 300 tons per day according to investments made in cold chambers and agility of operations, which have been achieved by the joint work of the private and governmental sectors. Taking into account that throughout the season, Uruguay loads 2,000,000 kilograms, said loading capacity at the airport allows to handle daily volumes in harvesting peaks without any difficulty. Regarding ocean freight shipments, though depth at the Port of Montevideo is good, there are still some disadvantages with the shipping companies.
After record season, Chile would adjust its export estimate for the current season
Andrés Armstrong, Manager of the Committee presented last season results, which showed 6% growth, reaching a record of 110,351 tons of exports. "Climate conditions have facilitated to be close to the production potential for many crops. In the case of the blueberry, I see a contraction of 6.7% for next year reaching 102,876 tons, mainly because we have shown producers in Chile that there is some fruit that worked in the markets at a time and today does not have much reception; and on the other hand, the ability to harvest, which every year becomes more complicated. "Regarding markets, USA received 70,919 tons (64%), followed by Europe 25,979 (24%) and Asia 13,126 (12%). There is a steady stable growth in almost all markets that in the last season accounted for 4%, 12% and 5% respectively. "When our work at the Committee started 10 years ago, there was great concentration of our offer in the North American market, with a lot of pressure on prices, but we have been able to seek new markets, and prepare ourselves to be in China with an increasing offer that ensures good quality and conditions upon arrival." Armstrong highlighted the significant change in the ports of entry for shipments to Europe, where Barcelona ranks in third place, Hamburg in second, and Holland in the first. The negotiation for the opening of India market is underway.