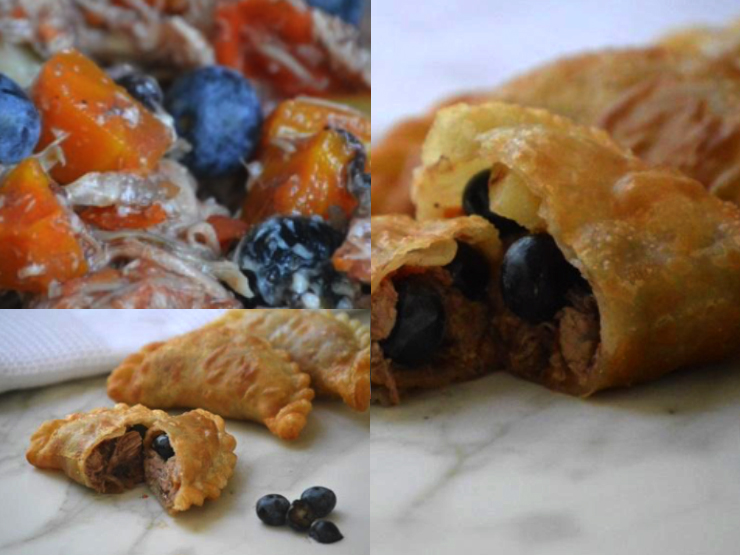 The empanada (hand pie) criolla a the typical Argentinean dish! Although they are eaten all over the continent in Argentina they became a regional trademark.
The empanadas besides being a very tasty dish are a good option for a light lunch or dinner.
Taste this option where Argentinean Blueberries (AB) give a sweet flavor and a handful of health benefits!
LAMB AND ARGENTINEAN BLUEBERRY EMPANADAS (HAND PIES)
(WITH FRESH BLUEBERRIES)
INGREDIENTS
For 2 dozens
For precooking lamb
Slow cooked Pulled Lamb
¼ cup Wine vinegar
½ cup Water
1 teaspoon Honey
1 tablespoon dehydrated mint
For empanadas (hand pies)
1 cup Carrots in cubes (the size of a blueberry)
1 cup Potatoes in cubes (the size of a blueberry)
½ cup Crushed tomatoes
1 cup Fresh blueberries
1 tablespoon Balsamic Vinegar reduction
1 teaspoon Salt
½ cup Lamb broth
12 empanadas disks for baking
LEVEL 3
TIPS
Lamb broth is obtained from its slow cooking. Let cool and defat, use the necessary amount; keep the rest for another preparation. Set aside for the empanadas.
INSTRUCTIONS
Cook the lamb: place the lamb shoulder in a slow cooker (if not available, bake in a pot with a lid in the oven at low heat and check, from time to time, that juices do not evaporate).
Add water together with meat, vinegar, honey, mint and ½ teaspoon of salt. Cover and bring to slow cooking for 4 hours. After that time, uncover and add carrot cubes. Cook, using the same type of cooking, for 1 more hour. In the remaining 20 minutes, add potatoes and crushed tomato and finish cooking. Remove solids from the pot and defat the liquid. Add fresh blueberries, reduction and the defatted broth to the lamb. Try and, if necessary, add the rest of the salt.
Recipe by: @laura_dicola